Cool Card Design of the Day
4/11/2018
- Have you seen
Jaya's Immolating Inferno
from the
Dominaria spoilers
? Let's discuss legendary sorceries.
Each color has one. Here's our exemplar: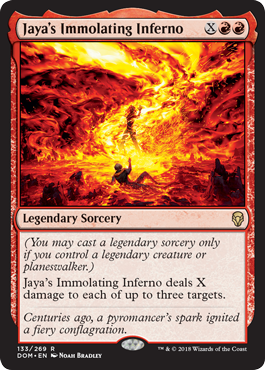 First, this is a success in a couple ways: Mechanically, it gives Constructed players a few more ways to trigger historic, and it delivers on the missing legendary card types. Thematically, this is an epic spell and a lovely homage to the well-loved
Jaya Ballard, Task Mage
. (Speaking of
Epic
, the first time Wizards' tried to deliver on legendary-ish sorceries, the result was, well, pretty arcane.)
Because these spells are best when you control a legend, they support
Dominaria's
legends-matter theme. My concern (apart from the niggle that sometimes the set cares about historic cards and sometimes it cares about legends) is that when I say these cards "are best" with legends, what I mean is "only relevant." Despite years of regretting the fact that Magic's marquee cards have a fundamentally downside mechanic—and revising it multiple times to mitigate its effect—Wizards has
doubled down
on it with legendary spells.
Most legends you can only have one of at a time. These legends, you can only have when you've got other legends (the cards you can only have one of each at a time, and thus aren't playing 4 of). Oh, and then there's the fact that the legendary supertype has one rules meaning on permanents and a completely different—almost opposite—meaning on sorceries.
What's the alternative? We could make the cards castable in the first place, and then reward you for having a legend,
especially
if you've got the right legend:
You may note that this model conveniently works better on this particular member of the cycle than the others. We can always design different sorceries once we find the best model.
Also, it's wordy. That's not the worst thing on a
legendary sorcery
but I definitely got greedy having three modes. We can simplify.
Design a legendary sorcery (either based on one of these, or a new one) in the comments.