I spent the last couple of days going through each of the Top 8's design tests, offering brief critique and grading them. The metric I used was as follows:
Each card started at 1 point, and could have a final grade of 0-2 points.
Each card gained a point if after reading it, I thought to myself, "hey, that's awesome"

Cards accomplished this by doing things we haven't seen before, scaled appropriately to their rarity
Chinese menu gold cards typically did not do this, even if the particular combination of their abilities hadn't necessarily been done before.

Each card lost a point if it had design issues beyond basic templating mistakes, and lost two points for egregious design issues.

This included things like unnecessary text, secretly being a monocolor card, color pie violations, misapplying rarity, needless complexity, etc.
The grading was harsh, and by virtue of there being 80 cards to go through, my feedback may have been more terse than I would usually prefer. I was very impressed with each of the submissions, and the preliminary tests of the GDS did their jobs and really found a great crop of eight designers. It's been a month and I still haven't finished my ten cards. These designers produced some top notch work in a matter of days.
I've provided my grade for each of the top 8's tests below, ranked lowest score first, as well as general comments on their submission. For my individual card notes, follow the link to their test page and check the comments section.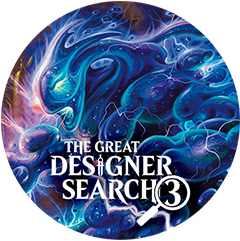 8 Points
There were a lot of seeds of good ideas in Chris's designs, but some major flaws in the execution. A lot of his cards had significant design problems, and many could have mined the same mechanical ground with much simpler execution.





9 Points
Jeremy was a bit inconsistent, with some great designs, and some clearly designed to fill the test's holes, designs which would make no sense in a vacuum. There was a little bit of overdesigning in his submission, which a round of playtesting and editing would have cleaned up.
11 points
R_Stech had a good batch of cards, but a few major whiffs as well. There were a couple of cards where he tried too hard to show off (which, to be fair, this test wants you to do), and the designs suffered as a result.
12 points
Jay had a solid mix of cards. A few weren't showing off his creativeness enough, a few pushed too hard the other way, and a few, like his Pacifist Azorius Planeswalker, hit that sweet spot in the middle.
13 Points
Linus provided a fantastic submission, marred by a few significant design missteps. His big hits were Alva, Mirror Trick, and Red Rover, which were interestingly all white cards. His attempts to be innovative on the PW designs fell a little flat, but overall a very strong batch of cards.
13 points
If I was docking points for templating alone, Alex would have scored much lower, as many of his cards do interesting things that should be straightforward in a roundabout way. His submission shined when he stuck to simplicity, like with Evolution from Below, Astral Containment, and Requiem for the Profane.
14 points
Ari managed to demonstrate a wide range of relatively unexplored design space while keeping most of his cards elegant and clean. That was no small feat. Mugai Creation Saga is easily my favorite card to come out of all the designs.
15 points
I love most of Scott's submissions. He was the only contestant to nail both Planeswalker designs, and his submissions overall were clean, intriguing, and maddening in their originality. In addition to scoring highest in my reviews, he was also the contestant whose self-rankings of cards I most closely agreed with.